Tombstone Deluxe Henry Goldenboy H004 Standard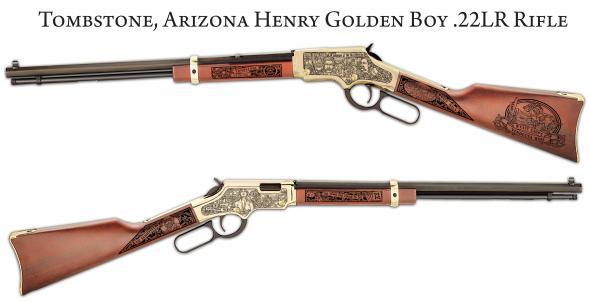 Tombstone Deluxe Henry Goldenboy H004 Standard Lever 22 LR 20" 16+1 American Walnut Stk Blue
Deluxe version of the Tombstone Commemorative Edition Henry Model H004 Golden Boy in .22 LR with 24-karat gold-plated receiver.

Tombstone, founded in 1877 by prospector Ed Schieffelin, became known as the "Town Too Though To Die" and has become the most famous and glamorized mining town in America. The gunfight at the OK Corral and the Boot Hill Graveyard is what we remember most. The town was booming with silver mining, around the clock gambling, and entertainment at the Bird Cage Theater.

Tombstone propels us back in time to when the west was wild and untamed. Legends were made there--Wyatt, Virgil & Morgan Earp, Doc Holiday, Johnny Ringo, Phineas Clayton, and Josephine Marcus. Remember the town of Tombstone and the Wild West with a limited commemorative edition of the Henry Golden Boy in .22 LR.

The Henry Golden Boy is a masterpiece of fine crafted gunsmithing. Any shooting enthusiast who closely examines one is immediately impressed with the excellent fit, finish and overall visually elegant design. Henry selected the Golden Boy as the canvas for the application of fine hand engraving which elevates an already beautiful rifle into a work of art. The result represents the true marriage of state of the art gunsmithing with the centuries old craft of engraving.

This fine commemorative is limited to just 100 guns and will instantly become a must-have collectible for any Tombstone fan. As each rifle is made-to-order, delivery time is eight to ten weeks.
Item Info
| | |
| --- | --- |
| Item | Available In Store |
| UPC | 619835006004 |
| Brand | Henry Repeating Arms |
| Model | H004 Tombstone Edition |
| Mfg No | TSHGOLD |
| Caliber | .22 LR |
Tech Specs
| | |
| --- | --- |
| Action | Lever |
| Barrel Length | 20" |
| Capacity | 16+1 |
| Trigger | Single Stage |
| Safety | Hammer |
| Length | 38.5" |
| Weight | 6.75 lbs |
| Stock | Engraved American Walnut |
| Barrel Finish | Blued |
| Barrel Material | Steel |
| Gun Type | Rifle |
| Receiver Finish | Engraved 24-karat Gold Plate |
| Receiver Material | Brass |
| Sights | Bead Front | Adjustable Buckhorn Rear |
| Trigger Type | Single Set |
| Model | H004 |
| Caliber Gauge | 22 LR |